A Muted Celebration for a Historical Achievement
"Yes, Yes, Yes!," screamed Chad Salmela, commentator at the 2018 Winter Olympics in PyeongChang.
Broadcast partner Steve Schlanger exclaimed," "It's Jessie Diggins delivering a landmark moment that will be etched in U.S. Olympic history. The first ever cross country gold medal for the United States."
Jessie Diggins and Kikkan Randall captured America's first gold medal in the women's sprint cross country event. Five-time Olympian Randall (2002, 2006, 2010, 2014, 2018) and Diggins, a two-time Olympian (2014, 2018) have been supported by snowsports brands like Fischer, Salomon, Craft, Rudy Project and Swix for many years. After the gold medal performance brand representatives joined the celebration with loud cheers, fist bumps and private personal messages.
But the expected flurry of post-win advertising and social media campaigns were conspicuously absent. Although sponsors of the USA Ski and Snowboard teams, snowsports brands were contractually prohibited from promoting the victory.
The International Olympic Committee's Rule 40 called for a blackout period for any marketing campaigns from February 1-28th, prohibiting brands from using any images or descriptions of athletes participating in the games.
"We face this extremely frustrating rule. We go into a blackout period where we are not allowed to talk about the team. We are not allowed to even send an Instagram post saying "congratulations on your win," says Eric Schenker, CEO, CRAFT of Scandinavia. "That's really frustrating. For 3 years, prior we can do as much as we want. During the period before and after the Olympics we can't say a thing."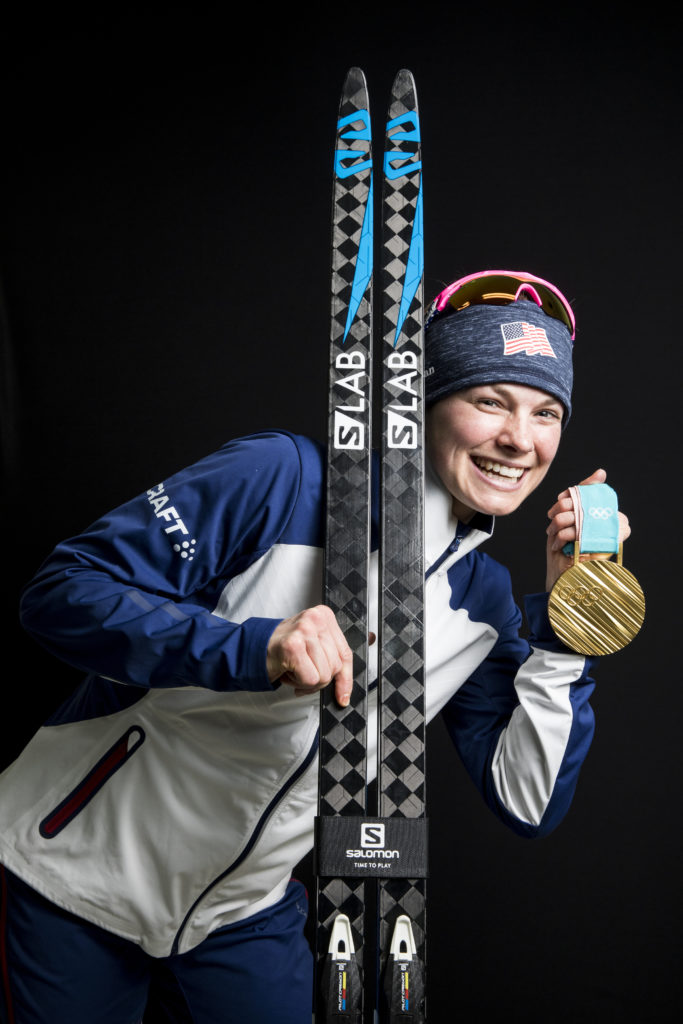 Craft has sponsored the US Nordic, Nordic Combined and Paralympic ski teams the past three years.
"We are not an Olympic sponsor, we are only a national team sponsor. With that comes these restrictions. As Olympic sponsors Nike and Polo pay tens of millions of dollars for those rights. As a business person, I get it. As a premier sponsor of a national team it is frustrating," says Schenker.
"The rules around using Olympic properties (images of the medals, the Olympic rings, etc) is incredibly restrictive and we can be fined by the International Olympic Committee. The truth is that we are still sorting out that plan and what will be possible," Andrew Gardner, spokesperson for both Fischer and Swix.
"Unfortunately, that's how it is. We need to respect those regulations. We personally congratulate athletes after events like the Olympics. They heard from us but unfortunately not publicly. Their victory meant the world to us. Truly thrilling to watch them win. The reward is seeing those athletes finally get what we know they have been working so hard to achieve and knowing that we helped them get there, says Simone Cordery-Cotter, director of public relations, Running and Cycling Enterprises, distributors of Rudy Project.
Post Olympic Promotion
Despite the two-week blackout limits on advertising and promotion, most brands see long-term opportunities and benefits.
Athletes supported by Rudy Project captured 11 gold medals in PyeongChang. While abiding by Rule 40 intellectual property restriction, the brand will use images from World Cup and other venues to remind people of their relationship with Randall, Diggins and other medal winners.
"We will continue to solidify and reinforce the message that Rudy Project is dedicated to athletes in the Nordic ski space. We are one of the few eyewear companies that specifically works with those athletes and designs lens, materials and frames for cross country skiing," says Cordery-Cotter. "For us their performance is fantastic and validates what we've known all along. These women are badasses and incredible athletes."
Jenny Taylor, the brand director for Salomon North America notes, "We did have a plan based on our expectations; however, respecting the strict rules of the Olympic blackout period for brands, we were unfortunate to not be able to capitalize on our athletes' 16 nordic medals at the time. That said, the Olympics are one—big—part of the season, and we have many other opportunities to communicate on our athletes' results and stories."
While hardcore Nordic skiers are familiar with Craft base layers, Schenker is optimistic the exposure will bring results. "One of the benefits of the sponsorship is that every vertical magazine in the sport will be reusing these images. In a small way we will be part of history and that makes us proud to be a small part of their journey," says Schenker.
"The performance adds to our reputation of being the most winning brand in cross country skiing and it brings it strongly to the U.S. I think for those of us in the U.S. it makes us proud to be contributing to the global state. It's not dissimilar to what a skier feels that's not a part of a brand. We share the pride they've brought to U.S. skiing, " says Steve Reeder, director of nordic division, Fischer Skis USA.
Gold Medal Legacy
When the winter of 2018-2019 arrives, will the memory of the USA's first gold medal in cross country skiing inspire a new generation of skiers?
"Jessie Diggins grew up watching Kikkan Randall, who is the true pioneer in the sport, compete. Now they are racing together. There are young women and men watching these athletes throw it all down on a world stage. Watching Kikkan embrace Jessie when she crossed the line was incredible. I can't imagine people watching that coverage who wouldn't ask themselves, " I should give that a try." What a feeling!," says Cordery-Cotter.
"This is such a huge accomplishment for the U.S. Nordic team and will surely inspire new skiers in the United States. Any Olympic medal bring the brand a lot of credibility and awareness, and Jessie's gold is inspirational to existing and new Salomon fans. The gold medal definitely helps us to reach out to new audiences via non-traditional and more horizontal types of media," says Taylor.
Schenker adds, "This kind of success will breed more success. There will be continued growth in the sport. The biggest challenge we have is the consistency of winters. When it snows we have a great year."